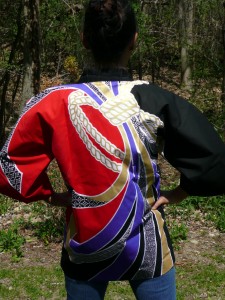 Odaiko New England is looking quite fabulous these days. In anticipation of our 15th year anniversary concert, reVISION, (Arlington Regent Theatre, 7 Medford Street, Arlington, MA, May 30th and 31st, 2009), we will be quite colorful in our new happi coat costumes.
What are happi?
Happi is a traditional Japanese robe imprinted with a distinctive crest. Originally worn by shopkeepers, servants and firefighters, the crest represented the organization they belonged to. Festival happi coats originated from Japanese firemen jackets. In the Edo period, firefighters were not paid for firefighting, but the promptness of their arrival. Thus conspicuous happi and dancing near fires were essential to them. Later on, happi coats were worn in festivals and parties in fond memory of dancing firemen!
After months of online shopping, we found the perfect look from store BOKUNAN-DO. We highly recommend their selection and friendly service. Many thanks to their customer service rep Natsu for all her help!
Our happi is a traditional short kimono styled jacket in bright red and black with violet and gold noshi ribbons. Originally, noshi was a ceremonial gift meant to wish good luck in the coming year. The gift was adorned with rice paper folded to resemble colorful, tied ribbons, which symbolize the unity between the giver and the recipient. Today, noshi ribbons have come to symbolize a special gift. How appropriate for Odailo New England, we bring the special gift of awe-inspiring taiko. And now, we look as fabulous as we sound!