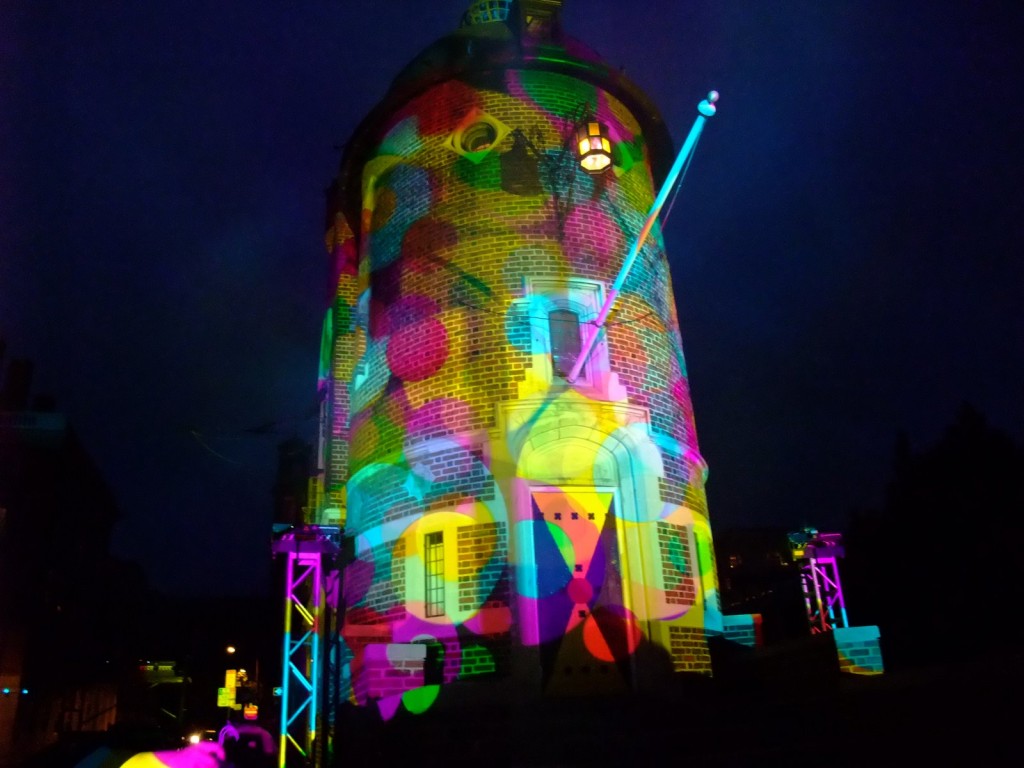 As Mark said, "The Cool Factor was definitely on the high side!"   How often do you get to drum in the middle of Harvard Square amidst a laser light show with fog machines and a confetti storm – all while staring down a 2-3 story float shaped like a Harvard Prof???   That's cool enough, but then add to that the reason why we were there – to welcome revelers celebrating the Harvard Lampoon Castle's 100th birthday!   On May 2, this was exactly the scene for about 300-ish party goers plus all the people who just happened to be on the street at the time.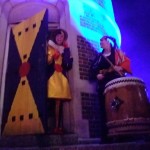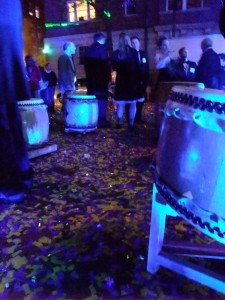 The plan was that we played Shin-en, an upbeat festival song, followed by Mahora, a more intense song.  At that point the Jester would emerge from the building and parade around the building with the crowd while we moved onto Kokyo.  Well, apparently the Jester really wanted to come out and join us because she came out almost immediately after Shin-en and just jumped right in, trying almost every drum and accessory we had.
A few of us played at the top of the stairs and sitting on the railings.  So, we had a slightly different vantage point than those on the sidewalk.  While we didn't get barraged by confetti up there – there was a point when all I could see was a bunch of bachi (drumsticks) above the fog and swirling confetti.
The atmosphere was fantastic.   This is definitely one of my favorite taiko moments.   Two weeks later, we are still finding purple, yellow, and gold confetti tucked amongst the crevices of our equipment.   I hope we are still finding them 6 months from now….